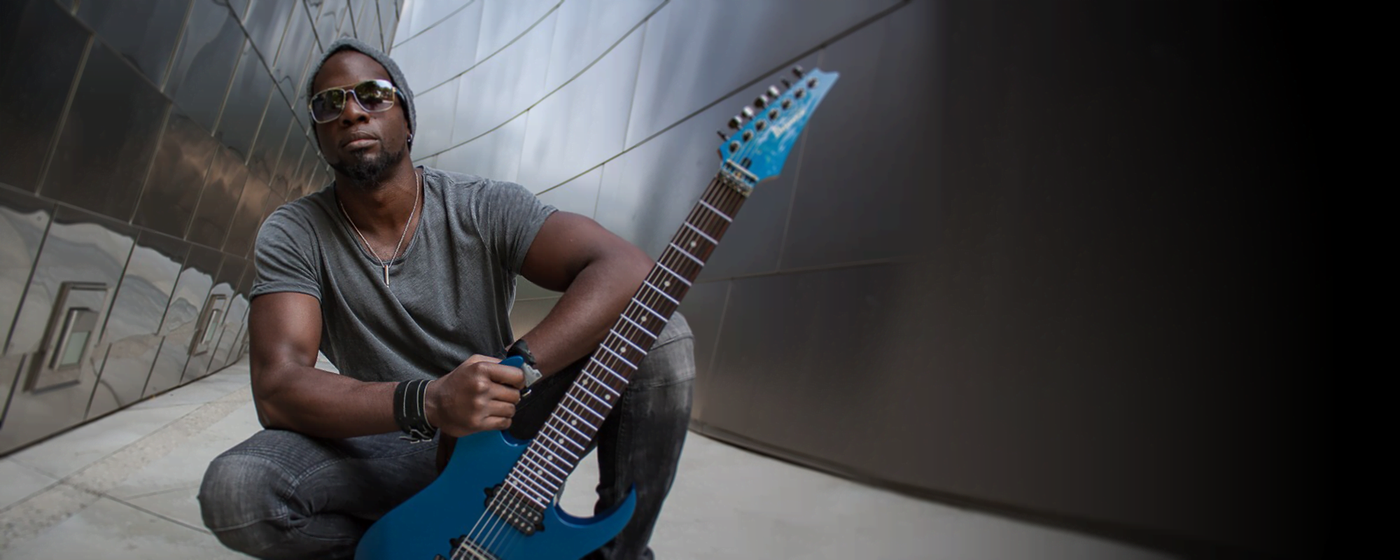 Аль Джозеф (Al Joseph)
The GHR is truly the most versatile amp i've played through so far
Биография
Music transcends the need for words when the story lies deep within the instrumental movements themselves."
Al Joseph was born in Highland Park, IL the first son of a Southern Caribbean father and Southern Baptist mother. When he was seven, the family moved to Scranton, PA where Al's musical prowess began to emerge. His Dad, Al Sr., brought home a drum set so Al and his two younger brothers could begin their education in the musical traditions of their culture. With what would become a characteristic demonstration of natural talent combined with dedication and commitment, Al diligently practiced for hours upon hours every day. Motivated out of desperation, Al's father Al Sr. presented him with his first student guitar and the rest, is History.
Excelling at music, sports and academics, Al attended Penn State University where he walked on to play at the Running Back position but soon his passion for guitar won out and in his characteristic pursuit of excellence, he hung up his cleats, turned in his books, and transferred to Berkley College of Music in Boston to peruse his professional music career.
Al's quest to give a "voice" to his personal exploration and expression strained against his cultural milieu as he found resonance with Progressive Metal and inspiration from Creed, Rage Against The Machine, P.O.D, Pillar, Pantera, and Sevendust. From the lyrical texture of Jimi Hendrix, BB King, George Benson, Albert King to the overall musical prowess of Joe Satriani, John Petrucci, Andy Timmons, Steve Vai, and Greg Howe, Al formed his style and openly pays homage.
Al began his Professional Career as the lead guitarist and singer for the Progressive Metal band, "The Great Gamble". Their debut album "Book One" caught the attention of Jan Cyrka, legendary artist and founder of Jam Track Central. Jam Track Central works with some of the world's best guitarists and teachers to provide its members with a depth and range of guitar playing knowledge and technical understanding. The JTC catalogue includes original artist jam tracks, online lessons and full album backing packages covering many music genres including rock, metal, blues, fusion and jazz. The artists and teachers are highly respected world-renowned players including Guthrie Govan, Alex Hutchings, Andy James, Jack Thammarat, Marco Sfogli, Kiko Loureiro, Jeff Loomis and many more. After their very first meeting Jan invited Al to join the Team.
In 2013 JTC released Al's debut solo instrumental album, "Out In The Open". Speaking to a new generation of Progressive Metal music connoisseurs, "Out In The Open", received instant international recognition.
It did not take long for legendary Brands like Ibanez, Laney, Dunlop, Rockbox, Gruv Gear, Positive Grid, Organic Pickups and Gravity Picks to align with this new "voice" of Instrumental Rock.
In 2016 Al relocated to Los Angeles, California and began work on his second Solo Album All of Creation with JTC, which is now available on iTunes and all other platforms. Featuring some of the world's most fierce shredders from guitar to violin, All of Creation" keeps its roots firmly planted as it intones the voice of the Millennials.
Stay "tuned" for touring dates!
"The GHR covers all my needs as a lead and rhythm player at the highest level. Its sonic quality allows me to combine both my classic and modern influences together giving me the ability to create my own signature tone. My favourite thing about this amp besides the fact that it sounds so good is that it is designed to give you tonal control of the power section as well as the preamp section. This lets you run the power tubes hot at lower volumes, creating actual head room for your dailed in tone in just about any live or studio situation. I'm truly impressed. Definitely get yourself a GHR range amp!"
Watch, learn and connect with Al here:
JAMTRACK CENTRAL ARTIST PAGE
– FACEBOOK
– TWITTER
– INSTAGRAM
Использует
ламповый усилитель 100 Вт, 4xEL34, ревербератор
комбоусилитель 50вт, 2x12 Celestion, 2хEL-34
гитарный кабинет 240 Вт/8 ом, 4х12" Celestion...